Overview
Overview
At Olympic College, loans are not automatically packaged with other forms of financial aid. Those choosing to borrow student loans, or those eligible for loans only, may complete the steps shown below. Federal student loans and PLUS loans require completion of the FAFSA. Private education loans are credit based and do not require a FAFSA. 
Contact
FEDERAL SCHOOL CODE
003784 - use this code when applying for financial aid at Olympic College.
What Types of Loans are Available to Apply For?
Federal Direct Stafford Loan (students only)
Federal Direct PLUS Loan (parents of dependent students)
Private Loans (student and co-signer)
Loan Info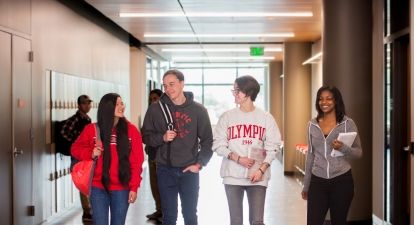 Loan Info
Loan Disbursement Dates
Loan disbursements (or balance after tuition and charges) are issued from BankMobile according to your selected refund preference on the first day of the quarter (on the 30th day of the quarter for first-time borrowers, first disbursement). You must be awarded a loan at least two weeks prior to the beginning of the quarter to receive a disbursement refund on the first day of the quarter. 
For single loans there are two disbursements that will be made:
The first on the 1st day of the academic term (or 30th day if first-time borrower/first disbursement)
The second will be shortly after the middle of the term. 
The first disbursement dates for the academic terms are:
2023-2024 AWARD YEAR
| | | |
| --- | --- | --- |
| Quarter: | Disbursement Date: | Disbursement Date for First-Time Borrowers: |
| Summer 2023 | July 3, 2023 | August 3, 2023 |
| Fall 2023 | September 18, 2023 | October 18, 2023 |
| Winter 2024 | January 2, 2024 | February 1, 2024 |
| Spring 2024 | April 1, 2024 | May 1, 2024 |
IMPORTANT: Check your disclosure notice for actual disbursement dates.  After a loan is awarded at the school, the Department of Education will deliver a disclosure notice to you, which outlines the dates the school received the funds. Allow three business days for processing of loan funds after the funds are received at the school. Funds will be delivered by BankMobile according to your selected refund preference.
---
Exit Counseling Interview
Federal regulations require that any student who borrows money under the Stafford Loan program complete an Exit Counseling Interview when no longer enrolled or when enrolled less than half time. At Olympic College, we require borrowers to complete Exit Counseling at the end of each award period. The Exit Loan Counseling is an online interactive session that offers important information about your student loan repayment obligations. Similarly, students who borrow funds under the Direct Loan program can complete exit counseling on the NSLDS website listed below under important websites. 
---
Repaying Your Loan (and related resources)
As a Direct Stafford Loan borrower, you have an obligation to repay what you borrow. The Direct Stafford Loan program has many flexible repayment options available to you as a borrower.
Find out more at the Federal Financial Aid Student Loan Repayment webpage. 
---
Important Links