Overview
Overview
The Sophia Bremer Early Learning Academy (SBELA) empowers families and students of Olympic College by nurturing respectful relationships and providing guidance and support to young children, families, and future educators as we work together to achieve our collective goals, always keeping in mind what is best for children.
Please join our waitlist for childcare for children ages 6 weeks to 5 years (pre-K):
Contact Us!
Hours
Mon - Fri: 7:30 a.m. - 4 p.m.
About our Classrooms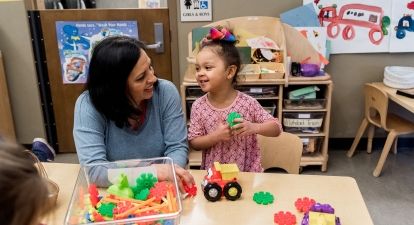 About our Classrooms
All classrooms use research-based Creative Curriculum to help plan and implement lesson plans and the environment to help your child grow. All classrooms use an observation and assessment system to document your child's learning and help scaffold their learning to the next level.
Early Head Start & Early Learning
One Toddler Room: Ages 1 - 3
Head Start & Early Learning
One Preschool Room: Ages 3 - 5
Information & Resources
Closures & Intersession
The SBELA Early Learning Academy typically stays open for one week after the end of fall- and winter-quarters. 
Fall Quarter: Closed Dec. 19, 2022 - Jan. 2, 2023
Winter Quarter: Closed March 27, 2023 - March 31, 2023
Nutrition & Meals
At the SBELA, we are committed to providing your children healthy and delicious meals and snacks. As a licensed child care provider, we participate in the U.S. Department of Agriculture's Child and Adult Care Food Program. Visit our Food & Nutrition webpage for more info.