Overview
Overview
The Sophia Bremer Early Learning Academy empowers families and students of Olympic College by nurturing respectful relationships and providing guidance and support to young children, families, and future educators as we work together to achieve our collective goals, always keeping in mind what is best for children.
Please join our waitlist for childcare for children ages 6 weeks to 5 years (pre-K):
Contact Us!
Hours
Mon - Fri: 7:30 am – 4 pm
About our Classrooms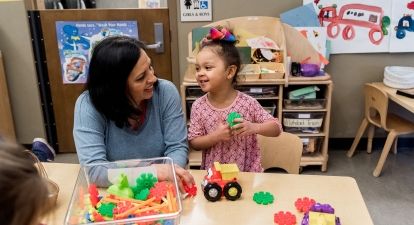 About our Classrooms
Our center provides diapers, wipes, a healthy breakfast, lunch, and snack at no additional cost to families.
All classrooms use researched-based Creative Curriculum to implement lesson plans and shape the classroom environment to help your child grow. All classrooms use an observation and assessment system to document your child's learning and help scaffold their learning to the next level.
Early Head Start & Early Learning
One Infant Room: Ages 6 weeks – 1
Three Toddler Rooms: Ages 1 – 3
Head Start & Early Learning
Three Preschool Rooms: Ages 3 – 5
Program Goals
Program Goals
To provide high quality childcare services to OC families that is affordable for student parents.
To Provide a safe and nurturing environment in accordance with the National Association for the Education of Young Children accreditation guidelines that promote the physical, social, emotional, and cognitive development of young children.
To support parents and add to family resources.
To provide a wide range and variety of parent involvement opportunities for families.
To nurture existing partnerships and to develop new ones that help to expand services to OC children and families.
To provide a model training site for early childhood students, demonstrating the most up to date and developmentally appropriate practices in early childhood.
Information & Resources
Closures & Intersession
The Sophia Bremer Early Learning Academy typically stays open for one week after the end of each quarter, then closes for staff training and classroom cleaning until the start of the next quarter.
Summer Quarter: Closed Aug. 28, 2023 – Sept. 15, 2023
Fall Quarter: Closed Dec. 18, 2023 – Jan. 1, 2024
Winter Quarter: Closed March 25, 2024 – March 29, 2024
Spring Quarter: Closed June 24, 2024 – June 28, 2024
SBELA Summer Quarter
Dear Parents!
The SBELA Team wishes to welcome you to Summer Quarter 2023 and to thank you for choosing our center to enroll your child. We are very excited for your family to be part of the SBELA team and to help prepare your child for success. We believe that you, the parent, are the most important influence in your child's education, development, and general well-being. We are here to support you and make available to you information, resources, and experiences that can make your important role a little easier. The parent handbook is a guide to help you learn about the SBELA Center; read it carefully and feel free to contact any team member or the director if you have any questions.
Updates:
Once you have completed a transaction towards your monthly childcare bill, please bring a copy of the receipt to the Front Desk or email a copy to Cindy at @email
We will be having an End of Year Celebration on August 25 at noon! More details to come soon!
A Few Reminders:
Make monthly payments for your child care bill by the last day of each month.
Double check with Cindy at the Front Desk to ensure you have all of the summer forms filled out for your child (eg. Sunscreen, Waterplay, Olympic College campus Field Trips).
Yellow Emergency Contacts Forms, and updated/revised forms will be passed out towards the end of the quarter for parent signatures.
Important dates to remember
There are currently no events scheduled.
Nutrition & Meals
At the SBELA, we are committed to providing your children healthy and delicious meals and snacks. As a licensed child care provider, we participate in the U.S. Department of Agriculture's Child and Adult Care Food Program. Visit our Food & Nutrition webpage for more info.