Olympic College Alumni Take Lessons in Land Education to Anaheim
Last November, three Olympic College alumni stood in front of an audience at one of the nation's largest education conferences to talk about a unique curriculum they had designed. They spoke for over an hour about a model for teaching young children social studies using Indigenous land-based education. When they finished the presentation, hands went up in the audience, the entire crowd eager to learn more. "They were just mesmerized," Reanne Rossi, one of the presenters, said.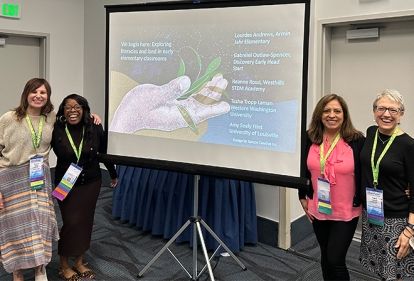 Rossi and two other OC graduates, Lourdes Andrews and Gabreiel Outlaw-Spencer, presented at the National Council Teachers of English Annual Conference in Anaheim, California, which took place Nov. 17-20. In their presentation, entitled "We Begin Here: Exploring Literacies and Land in Early Elementary Classrooms," they described three lessons they had designed to teach young children about Indigenous sovereignty.
They first got the idea for these lessons while studying Early Childhood Education in the Western Washington University program located at the OC Bremerton Campus. The program is a partnership between the two colleges that enables students to earn their associate degree with OC, then complete their bachelor's degree through WWU without leaving Kitsap County.
When their professor, Tasha Laman, invited students to turn their lessons into conference proposals, the three students jumped at the opportunity. 
They spent the summer after graduation developing and fine-tuning their proposal, and it was accepted soon afterward. "It was wonderful. We thought 'cool, we're going to Anaheim!'" Rossi said. Then they hit a roadblock. "The trip would cost a lot of money that we didn't have after six months of student teaching." 
Fortunately, by the end of the summer they had all landed their first teaching jobs, two of them with the Bremerton School District. The district agreed to lend some funds for travel and WWU provided a scholarship. The trip was back on.
During the presentation, they each described a lesson they had developed and implemented as student teachers. Rossi taught students about salmon, their importance to Tribal Nations, and water protection. In Andrews' unit, students went on nature walks in which they learned about local Indigenous people and their connection to the land. In Outlaw-Spencer's unit, students constructed cardboard bridges and considered the way that people move around their communities.
Members of the audience at the conference were surprised to see a social studies program that incorporated land-based education, which focuses on settler colonialism and the importance of land to Indigenous cultures. 
"In many states, teachers can't fathom teaching these kinds of things because either social studies doesn't exist or it exists in a bland curriculum that's fed to them," Rossi said.
In contrast, Washington's legislature has mandated that students think critically about the geographic, economic and cultural forces impacting tribes in their communities.
The partnership between OC and WWU prepares teachers-in-training to fulfill that mandate. "Through an anti-bias curriculum, OC plants the seeds," said Gayle Julian, OC's Early Childhood Faculty and Program Coordinator. "Western Washington University took them further and deeper on that journey." 
Rossi, Andrews and Outlaw-Spencer were part of the first class to graduate from the program in the spring of 2022. Now, they are each rounding out their first year as teachers in Kitsap County. They're also working together again to turn the conference presentation into an article to be published in an academic journal.
"These three were shining stars in the OC program," said Julian, who taught each of them at the start of their academic careers. "It makes me tear up to have watched them develop into such wonderful humans and educators."
Visit our Early Childhood Education webpage to learn more about this program. 
---
Blog post by Jen Monnier