Documentary by Olympic College film professor now streaming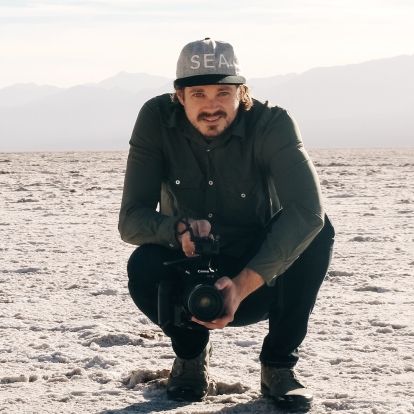 Before there was digital imagery, there was stop-motion animation where materials like clay sculptures were manipulated frame by frame to bring them to life. Will Vinton, known as the "Father of Claymation," revolutionized the craft in the 1980s and '90s but clashed with the corporate world.
Olympic College film professor Marq Evans captured Vinton's charismatic creativity in the 2021 documentary "CLAYDREAM." Now, after a successful theater run in North America, Evans' film is available as video-on-demand.
Evans, an award-winning documentarian, joined the Olympic College Film School in 2020 and leads the Documentary Filmmaking Certification program. His debut feature, "THE GLAMOUR & THE SQUALOR," about American DJ Marco Collins, won top prize at film festivals around the world.
Telling a dynamic story
Evans was inspired to tell Vinton's story after reading a news article about the man behind such iconic characters as the dancing California Raisins and the Domino's Noid — nemesis of a pizza delivery person.
"I grew up with the characters Will Vinton and his studio created, and am not alone with the feeling of nostalgia his characters inspire today," Evans said in a press release by his publicist.
Vinton earned recognition for his animated features. "Closed Mondays," which he filmed with Bob Gardiner, an early co-collaborator, won the Academy Award for Best Animated Short Film in 1975. Vinton went on to found the Emmy- and Oscar-winning Will Vinton Studios, but according to Evans, "ultimately lost control of the way his legacy would be shaped." 
Evans didn't want to tell a simple "nuts-and-bolts biography" about Vinton.
"I'm interested in pulling apart and putting back together a multi-faceted man who was as dynamic and complex as the work he created," Evans said.
From concept to production
Evans began work on "CLAYDREAMS' in 2016, largely self-funded at the start. Vinton was receptive to the film, and Evans spent many hours interviewing him and his close collaborators. He had access to a treasure trove of archival clips and was granted artistic license from Vinton. 
"I would maybe kind of throw some ideas at him, and he'd say, 'Whatever you want. It's your film," Evans said.
In their last interview, Evans filmed Vinton receiving cancer treatment. Vinton died in 2018.
Evans partnered on "CLAYDREAM" with XYZ Films, an independent production company based in Los Angeles. The documentary premiered in June 2021 at the Tribeca Film Festival.
The film is available on Apple TV, Amazon Prime Video, Vudu and DIRECTV.
New projects on deck
Evans, a self-taught filmmaker, hopes students find inspiration in his success.
"I would say for students, above all else, is just there's no reason you can't do whatever it is that you want to do," Evans said. "I had a different career in sales and management for seven years after college and then kind of caught the filmmaking bug, and I didn't know anybody. I didn't have any investors or anything like that. I just was passionate about it and did the work."
That said, students at Olympic College with an interest in film have a tremendous resource in their own backyard. The OC Film School offers world-class facilities, instruction from industry professionals like Evans and hands-on experience all at a fraction of the cost of most film schools.
Evans has several new films in the works including a true crime mystery based in Kodiak, Alaska in the 1980s and a documentary about an artist who painted the history of baseball back to the 1800s.
 Find out more about the OC Film School. 
Blog Post by Christina Henry