Olympic College is a way of life for Sarah Deffit and her family
When Dr. Sarah Deffit is teaching her human biology class at Olympic College, she doesn't just explain the difference between recessive and dominant genes. She also shows students how learning the material can be a stepping stone toward college degrees, financial stability, and pursuing their dreams. And she would know – 16 years ago, she was a student at OC learning biology basics.
"At that time, I don't think I knew what career paths were available to me," she said, "I didn't even know what a Ph.D. was. I want my students to know that from OC you can climb all the way up and do anything."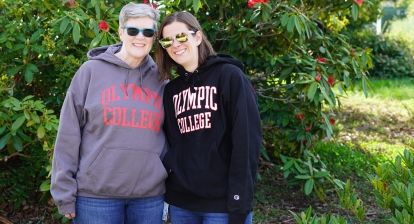 That's what she did. Following an academic career that started at OC more than a decade ago and culminated in a Ph.D., Sarah joined OC as a tenure track biology faculty member in the winter of 2022. She's teaching Anatomy, Physiology and Human Biology.
In this position, she has returned not only to her alma mater, but also to her family, who all live in Bremerton. Perhaps no one is as thrilled about it as her mom, Sherrill Gross. "It makes my heart so happy that she returned, and that her kids are now here too," Gross said.
They are a family full of OC alumni. When Sarah was young, her father's Navy job moved them around the country before eventually landing them in Bremerton. As a Navy family with a tight budget, Sarah's parents recognized the value of community college education, and they encouraged their children to attend OC.
Sarah's older sister began at OC as a Running Start student. Then her mom decided to enroll as well. "I wanted to finish what I started," she said, referring to the undergraduate track she had paused many years before. While her mom was still working toward her degree, Sarah started at OC too, also in Running Start. Her father and brother each attended OC as well.
In 2007, Sarah and her mom walked across the stage at OC's graduation ceremony to collect their diplomas in unison. Then Sarah went to Colorado State University, where she juggled playing soccer with earning double majors in biology and chemistry, and a minor in math. After graduating with her bachelor's degree, she went on to earn a Ph.D. in immunology at Indiana University School of Medicine, researching how people's diets can affect their bodies' ability to fight off pathogens.
Meanwhile, Sherill went on to complete her Bachelor's in Business Administration at Indiana State University's online program, after earning her associate in Business Administration from OC.
In her new role as a science researcher, Sarah ran into a problem. "I realized how difficult it was to talk about my work with people like my grandparents who never took biology," she said. That realization sparked a passion for scientific education.
"Being science literate in our world is so important," she said. "Navigating information online - even making informed medical decisions - requires scientific knowledge."
So Sarah decided to pivot from research to education. She began a postdoctoral program at Indiana University that would train her how to teach. During that program, she designed a course and created outreach programs to bring science education to elementary and middle school students.
After finishing the postdoc, she started looking for teaching jobs at community colleges because she knew from experience what an impact these institutions can have on students' lives.
"Starting at OC gave me financial stability," she said. "It allowed me to earn my bachelor's degree with minimal student loans, and that enabled my husband and I to buy a house by the time we were 25."
In 2017, she returned to Washington to start a teaching job at Tacoma Community College. Then a temporary teaching position at OC opened up in fall of 2022, and she jumped at the chance to return to the school and city where her studies began. After the temporary position ended, she became a permanent tenure-track faculty member.
For Sarah, the homecoming was surreal. On a walk through campus, she noticed new buildings sprinkled between some of the same older buildings she used to take classes in. During her first faculty meeting, she ran into one of her former teachers who had encouraged her many years earlier to continue studying math, and who had even written her a college letter of recommendation.
Now that Sarah is well into her second quarter of teaching at OC, she's eager to put down roots and continue her family's OC tradition. "In ten years, when my kids are old enough, I'm hoping they'll start at OC as Running Start students just like I did."
###