Overview
Overview
The IT Help Desk supports the technology needs of Olympic College students. We provide comprehensive services that ensure you have the devices, connectivity and assistance you need to thrive in your classes. Visit the IT Help Desk or submit a help desk ticket, and our staff will respond to you right away. See below for more information on the services we provide.
Contact
Hours
Mon - Fri: 8 am - 5:30 pm
Our Services
Learn more about the resources and services available to you as an Olympic College student. 
Student Computer Resources
Student Computer Resources
Security Vulnerability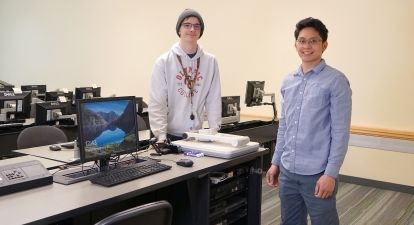 Security Vulnerability
If you believe you have discovered a security vulnerability, including an email phishing attempt in an Olympic College application or service, please email: ITSecurity@olympic.edu with your discovery. You should receive a reply within three business days.
If you do not hear back from us, please contact the IT Help Desk.
---
OC-IT Support Page (Requires O365 login)