Overview
Overview
Computer labs are available for use by Olympic College students at all of our campuses, including PSNS & IMF. Hundreds of applications and programs are available across more than 1,000 computers. Students are welcome to use computer labs during posted hours and must follow all policies.
Computer Lab Locations
Bremerton Campus
Poulsbo Campus
Shelton Campus
PSNS & IMF
West Sound Technical Skills Center
General Rules & Policies
ACCEPTABLE USE 
The Olympic College student network is a Washington State resource. It is for instructional purposes only . It is not for commercial use.
CONDUCT
While in the labs, students should conduct themselves according to the student code of conduct. See the office of Student Services for questions pertaining to the code of conduct.
The labs are quiet study environments. Please keep the noise volume at library levels. We make an exception for Adaptive Technology students using the voice recognition applications located in Business 100.
Please respect the rights and property of others. Do not improperly access, misappropriate, or misuse any account or file.
Do not share your account. You are responsible for all activity on your account.
CONFIGURING SYSTEMS
Do not move, reconfigure, or attempt to repair OC computers, printers, or peripherals. Do not install, reconfigure, or remove software on OC computers.
Do not attach any type of hardware to any OC computers, electrical or networking outlets. This includes: laptops, external storage devices such as hard drives or zip drives, cell phones, etc. The only exception is the use of USB Removable Flash Drives (ThumbDrives and JumpDrives). Olympic College cannot be held responsible for any damage that may occur to any device that has been installed or is using Olympic College resources without prior authorization.
Do not install software, firmware or plug-ins to the network or any workstation. If a required application is not available, please inform your instructor.
FOOD & DRINKS
No food or drink is allowed in the labs.
HACKING
Do not tamper with, copy, or hack network systems, software, or accounts.
INTERNET
Chat rooms, instant messengers (IRC, MOOs, MUDs, MUSHes, Yahoo Messenger (Y!), MSN, AIM, ICQ, etc.), and online games are not allowed. Ask a lab tech if you have questions.
Video/audio streaming or downloading video/audio clips is not allowed, as they use inordinate amounts of bandwidth.
Do not visit illicit or illegal websites , such as pornographic, hate, or hacking sites not related to research for classes. You must be able to prove that visiting such sites is class-related.
VIRUSES
Do not intentionally infect any Olympic College system with a computer virus. If you suspect a machine is infected with a virus, contact the IT Help Desk at extension 7600. Network software is available to check and repair suspected files. Olympic College cannot guarantee the integrity of any repaired file. We reserve the right to delete any file from the network if it is infected with a virus.
CONSEQUENCES
Abusing or disregarding these rules and policies may result in removal from the premises, denial of computer access, or both. Violations that are covered by law may be subject to arrest, fine, and prosecution as state and federal law allows.
Paper Usage
Paper Usage
Limit print jobs to school-related tasks.  We use a print management system to track students' paper usage throughout the quarter.  Students receive 2500 points at the beginning of each quarter.  Pages cost  10 points per color page, and 5 points for black & white pages.  If students run out of points, they can purchase more at the Cashier's office.
Saving Files In Computer Labs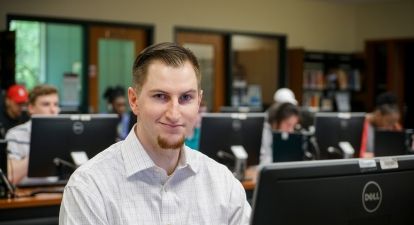 Saving Files In Computer Labs
Most computers in labs are configured to prevent the saving of files on the machines. Files saved on these computers are erased daily. Files can be saved in the follow locations: 
USB drive
CD drive if available on computer
Z Drive: This is your network folder; this drive is not accessible by any other student.
T Drive: this is a space on the local computer; however, this location is accessible by anyone that uses the computer and is cleaned every quarter.
If you have any questions, contact the IT Help Desk at 360-475-7600 or email @email.